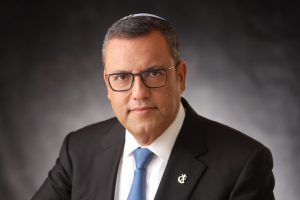 Dear Friends,
The Jerusalem Gateway is a huge, game-changing project in its scope and significance which augurs promise not only on an urban scale but also on the national level. On completion of the project, Jerusalem will boast a new, leading business center which will also function as the largest integrated transportation hub in Israel and a vibrant, major business district providing public and commercial opportunities and cultural events, as well as employment for thousands of people. The Jerusalem Gateway is a project of major proportions and one which could confidently describe as being on an international scale in its impact on shaping the future of Jerusalem.
There is an old expression, "You never get a second chance to make a good first impression." This can be applied both to people and to cities, where the point of entry into many major cities can be said to be their "business card" to the world. The Jerusalem Gateway currently under construction in Israel's capital is without doubt the most impressive business card that one could wish for, and one that promises to offer the largest office complex in the Middle East to house innovative, major Israeli and international hi-tech companies.
The new, impressive business district will also offer major benefits to the city's residents with urban spaces built to an exceptionally high standard which will link the government precinct, tourist sites, the Machaneh Yehuda market and the museums located on Givat Ram.
With great anticipation, and out my love for the city, we are laying together the foundations for the future of Jerusalem. These foundations are yet another layer in the transformation that we are generating in our city which will ensure not only Jerusalem's position as Israel's largest city but also the most advanced and which offers the best quality of life.
Yours sincerely,
Moshe Leon
Mayor of Jerusalem